Blogs & news
Preservica
|
December 17th 2021
Military Women's Memorial Partners with Preservica, Protecting a Century of Stories of Women in Military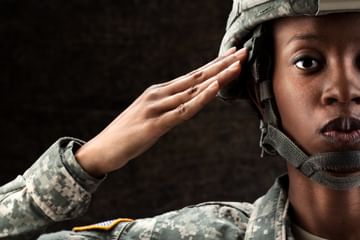 Preservica, the world leader in active digital preservation software, is excited to announce its partnership with the Military Women's Memorial, utilizing Preservica's Starter Plus platform as the next phase to its digital transformation journey in preserving its oral history collection assets.
The Military Women's Memorial, a 501c3 nonprofit organization, is the only historical repository documenting all military women's service. It is located at the ceremonial entrance to Arlington National Cemetery and features an education center, interactive exhibitions, a world-class collection of military women stories, and engaging programs and events for all ages and generations.
The Memorial is using the public access portal, which is a branch of the Starter platform for the public view, making content discoverable online for all to enjoy. It is user-friendly and has great features to upload, organize and enrich historic records.
"We are excited that our Preservica portal will afford greater accessibility to the collections through our website and will directly support our mission to collect, preserve, honor, and share the stories of women's service,'' said Amy Poe, Collections Manager, Military Women's Memorial. "We are also working on developing a traveling version of our installed exhibit, The Color of Freedom: Honoring the Diversity of America's Servicewomen. With the traveling exhibit, we plan to make newly digitized oral histories housed on the Preservica portal accessible through QR codes, adding another layer to the story the exhibit tells about the contributions of servicewomen of color throughout our nation's history."
Their oral history collections include accounts of women's service in defense of the nation from World War I to the present, although women have been serving in and with the U.S. military since the American Revolution. Their contributions are often underrepresented or overlooked altogether, but the Military Women's Memorial was created with a mission to change that.
The Military Women's Memorial is using Preservica Starter Plus, a fully cloud-hosted way to easily upload, preserve and view hundreds of file formats online including video and audio. Starter will provide secure online access to the Memorial's unique collection of oral histories representing women's service in and with the U.S. Armed Forces. The collections include women in five of the six military services - Army, Air Force, Navy, Marine Corps, and Coast Guard (Space Force being the newest of the services), as well as uniformed civilian women who have supported the military through organizations such as the American Red Cross.
"Housing important and historic digital materials on servers is too high-risk," said Mike Quinn, CEO of Preservica. "Full digital preservation means files need to be discoverable today and safely preserved and accessible for generations to come. It is with great admiration that Preservica's software will ensure these women's stories are forever documented in American history."
The Memorial will celebrate its 25th anniversary in 2022 and has been collecting oral histories at varying intervals since 2000. From the beginning of their effort to digitize oral histories recorded in legacy formats, the Memorial's curatorial team recognized the need to protect the newly digitized recordings for the long term, collocated with collections metadata in a format consistent with industry standards. They also needed a way to showcase these recordings, since their collections have only been available to researchers and family members on-site only and by appointment up until now.
Start now for free