Blogs & news
Preservica
|
May 19th 2021
More great ways to quickly build and manage your digital archive
Read on to learn what's new in the latest release of Starter
We're always adding new ways to make it easier and quicker for you to upload content, flexibly rearrange collections and enrich metadata at any time.
What's new:
Upload, preserve and view archived websites
It is now easy to preserve and view archived websites and web pages with Starter. Simply drag & drop upload your WebARchive (WARC) files and Starter takes care of the rest. Use the Private/Public toggle to easily share preserved websites on your online portal.
Starter is the perfect place to keep all your valuable digital files alive forever - digitized content, images, audio, video, office documents, emails and now websites!
Not a user yet? Get started for free now
Here are a few other great time-saving features we added to our last release:
Save time editing your metadata in bulk
We've enhanced our popular bulk metadata editing feature*. Save time curating your collections by editing Dublin Core or MODS descriptive metadata across multiple assets in your folders or subfolders. Really handy if you need to change spellings or apply dates or a rights statement across your collections.
Easily upload, preserve and view emails
We're always adding to the formats you can preserve and view with Starter.
As well as being able to bulk upload files & folders and ZIP files you can now drag & drop email files such as Outlook PST, EML and Google MBOX. Starter will automatically unpack and preserve the individual email messages and make them easy to view. Perfect for preserving the emails of elected officials, senior stakeholders or donated collections from well-known individuals.
Add thumbnails to folders and assets
As an archivist you spend a lot of time and effort curating your digital archive, making sure it is just right. Now you can easily choose the best thumbnail for your folders and assets. Just right‑click on any folder or asset and choose 'Change thumbnail' from the Actions menu. It's that easy.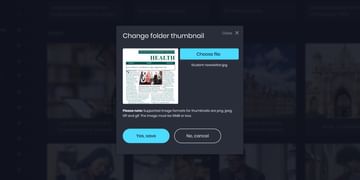 *Bulk metadata editing is a Starter Plus feature - click here to find out more about Starter Plus.

Not a user yet? click below to get started with building your digital archive:

Start now for free