Blogs & news
Preservica
|
May 20th 2022
Practical Digital Preservation Training & Education - Canada Series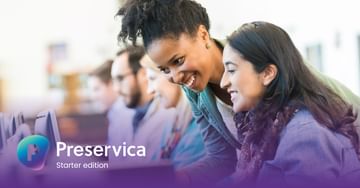 About the Training & Education Series
Accelerate your digital preservation knowledge & skills with this educational series
Over the last couple of years, remote working and online access to digital materials has become increasingly important for many Canadian government, academic, cultural and commercial organizations. But, this digital content is at-risk. It is easily corrupted, lost, tampered with, or worse stored in formats that can't be read or used by future applications.
Gartner have been highlighting this: ​"As formats change, software is retired and hardware becomes obsolete, the data that organizations might want to keep can be lost forever."

Here at Preservica, we've made that our mission – to work with our customers and the digital preservation community – to ensure the world's digital legacy is easily preserved and available to future generations.​
That's why we've launched Free-forever digital preservation in Canada and worked with industry partners to bring your this free practical training and education series designed for professionals including archivists, records managers, and independent practitioners.
Learn from Preservica experts as we explore the practical steps of building a digital archive using Preservica Starter edition (free-forever 5GB).

This four-part online series is packed full of best practice and real-world examples to help you jump-start your digital preservation journey by quickly building your very own digital archive in Starter.
Digital Preservation 101
Essentials Skills
Building The Business Case

Preparing For The Future
Click here to join the online community for this series
Thanks to our partners
Lesson 1: Digital Preservation 101
The digital challenge – digital content is fragile, easily corrupted, lost or tampered with so ensuring your unique long-term digital information is protected and can be easily found, used and trusted is critical to the long-term success of your organization. In this session, we'll explore the core pillars of digital preservation.

What you will learn
What is digital preservation and why do we need it?
The core pillars of digital preservation

Preservation strategies & industry standards

Preservation in practice at TfL
Key business drivers & goals

Free: Sign-Up for Starter and Follow Along
Lesson 2: Essential Skills
In this practical session, participants can follow along using Preservica Starter as we explore preservation fundamentals, including securely adding content and enriching metadata alongside organizing your collection hierarchies to enhance discoverability, user experience and engagement with your digital archive.

What you will learn
How to quickly and securely preserve your digital content
The importance of metadata creation and enrichment
Saving time with bulk upload & editing of metadata
File formats and vital digital preservation workflows
Flexible collection hierarchy to ensure findability

Free: Sign-Up for Starter and Follow Along
Lesson 3: Building The Business Case
Building the case for digital preservation at your institution starts with advocacy and highlighting institutional value, but it also requires practical examples and proof points. Impress stakeholders by showcasing your new digital archive and highlight what can be achieved with limited resources whilst securing wider engagement and advocacy.

What you will learn
Benefits of doing something, now
Importance of appraisal & understanding content value
How to outline and present the case for digital preservation

Utilizing Google Analytics to provide data points
Next steps for scaling your archive
Free: Sign-Up for Starter and Follow Along
Lesson 4: Preparing for the Future
Technology refresh rates and the acceleration of digital transformation means the time to act is now. This session demonstrates how digital preservation technology can be seamlessly integrated to deliver protection and future-proofing in ways transparent to records producers but compliant with information governance and retention policies.

What you will learn
Handling increasing collection volumes & data complexity
Embracing new processes: Extract Transform Load (ETL)
The role of technology & digital transformation
Embedded digital preservation
Opportunities for upskilling & continuous learning
Free: Sign-Up for Starter and Follow Along
Testimonials - see what others are saying about this training
"The opportunity to use Starter without signing a contract and to familiarize myself with basic features of the system for free, prior to discussing with stakeholders, is a huge benefit. I loved inputting metadata"

Past attendee
"We are at the very start of our digital preservation journey so this series has been really useful in providing an overview of the key issues and context."

Past attendee
"I have loved extending my knowledge of digital preservation. Training sessions given by Preservica have been excellent - informative, interesting, inspiring.."​

Past attendee