Learn, share & collaborate with the community
Starter now includes direct access to the Preservica Community Hub connecting you with 1,000's of archivists & digital preservation practitioners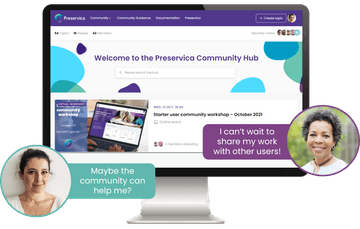 We've transformed user interaction by placing collaboration and learning at the heart of the Community Hub for Starter users.
Our free-forever Preservica Starter edition includes direct access to the Preservica Community Hub.
Connect with other Starter and Preservica users to share best practice, access self-service support, build your digital preservation knowledge and have your say on the future direction of Preservica solutions.
Explore what's included below
Quickly find answers to your questions
Everything at your fingertips with immediate access to the Community Hub from Starter. Ask a question in Starter or enter the Hub for support & best practice.
Create groups & collaborate with like-minded users
Build relationships with users across the global community - share best practice, use cases and experiences with others.
Be inspired with advice & top tips
Support other users by sharing your top tips & product tricks. Take inspiration from other users achievements and showcase your own.
Contribute to the future of digital preservation
Search, submit and vote for ideas & features to enhance Preservica solutions with direct access to the product & engineering teams.
Have fun while you learn!
Take part in quizzes, earn badges and top the leader board. Become an active contributor on the Community Hub to earn badges & kudos.
Stay informed of upcoming events & training
Never miss another event. Register your interest for upcoming events including workshops, training & global digital preservation online & in-person events.

"In my experience it really helps to be able to have a space to talk and share experiences with other users, the Community Hub is perfect for this."
Heather Perez
Special Collections Librarian & University Archivist Stockton University
How do I join the Community?
Simply sign-up for Starter and you'll be able to access the Community Hub directly from your Starter interface.