Blogs & news
Preservica
|
January 24th 2023
Preservica customers use the past to inform the present, preserving democracy for future generations
See how Preservica is helping leading institutions preserve democracy by safeguarding important voting records, some over a century old.
Our nation's history of democracy and its road to voting rights is rich with content. The history of voting participation in the U.S. across gender, race and ethnicity contains oral and written stories, registration documents, litigation case documents and more.
As the nation's newly elected officials convened to join the 118th Congress, it's important to look back at how our democratic process got here.
Preserving the democratic process for future generations starts by looking at how history has shaped the voting rights of today. That's why it's important to protect these valuable resources—to document the national experience, drive awareness and strengthen our nation's democracy through public access.
What the history tells us
Millions of Americans cast their ballots each election cycle to improve our government and engage in issues that impact their lives. However, it wasn't always that way. History has shown us that African Americans, immigrants of all backgrounds, and women of all ethnicities have had to contend with the democratic process and voting rights of their time throughout American history.
Preservica customer, the Boston City Archives, is using the cloud-based digital preservation software to help its citizens and researchers learn more about the city of Boston's past and the lives of the people who lived there.
Marta Crilly is the Archivist for Research and Outreach at Boston City Archives. When she took the city's data analytics team on an Archives tour in 2016, the team saw the Archives' Women's Voter Registers and identified the registers as an enormous dataset. The records were on paper and not indexed, which was incredibly time-consuming to sort.
The majority of city records were kept as paper documents, registers and photographs scattered around various city buildings and agencies. The Boston City Archives adopted Preservica to help in sorting these digitized and born digital records.
Since then, Boston City Archives has preserved, flexibly managed and provided wider access to its unique digital records. In particular, having a single, easy-to-use, cloud-hosted application has enabled the Archivists to achieve more and to focus on their role of curating and sharing these records rather than managing local IT servers and individual tools.
With digitization, records are now searchable by the public, by researchers and by historians exploring genealogy or looking for information on government decision-making. Marta and the team can make these records discoverable and immediately available online while using Google Analytics to track metrics on access – such as which items are viewed the most, or which search terms are used most frequently.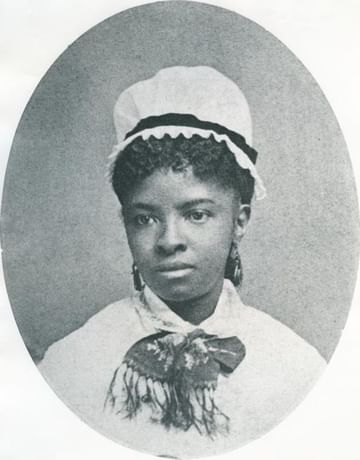 Mary Eliza Mahoney, circa late 1800s
The other women who registered include a diverse cross-section of age groups and demographics, including immigrants, housewives, hairdressers, factory workers, artists, office and sales clerks and women of color from the Southern United States and the Caribbean. These detailed records include names, addresses, occupations and birthplace.
The project team discovered women's citizenship information was tied to the closest male relative (Husband or Father). In some situations, however, there were records of women suffragists who defied gender norms and lived together. This opened up the discovery of what was called "Boston Marriages," further explained in Public Faces, Secret Lives: A Queer History of the Women's Suffrage Movement, by Wendy L. Rouse.
The Mary Eliza Project began in 2021 as a collaboration between the Boston City Archives and Simmons University, which funded the research, writing and transcription of records for Wards 1, 6, 8 and 13. The project involved researching those people and places connected to voter registrations and telling their stories. Transforming handwritten and unindexed registers into an easily searchable and sortable dataset opens the records to thousands of new users—historians, genealogists, GIS specialists, social scientists and many more.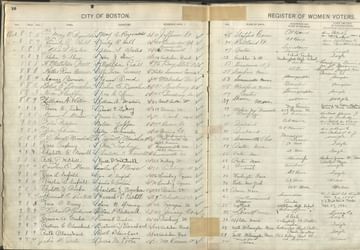 Excerpt from General Register of Women Voters, Ward 8, Boston City Archives. Anna E. Tukey even gave "Dog Fancier" as her occupation!
The project team discovered the majority of Ward 8's newly registered voters were born in the United States, but also found names of those who hailed from Poland, Russia, Ireland, France, Turkey, Sweden, Scotland and Switzerland. Ward 1 hailed 205 women from Canada with large numbers of East Boston women from Ireland, Scandinavia and England.
You can check out the Ward and Precinct Maps in Preservica here.
The partnership between Boston City Archives and Simmons University is continuing to support public programming, events, research and writing that focuses on transcribed voter registrations. Moving forward, ongoing transcription of the Women's Voter Registers is supported by a grant from the Community Preservation Act and overseen by the Boston City Archives, with plans for a collaborative digital exhibit following the completed digital transcriptions.
Whether there is an interest in genealogy, mapping, statistics or storytelling, these colorful stories represent the genesis of women's democracy being born.
The Legal Defense Fund
Another Preservica customer doing incredible work preserving and providing access to voting archival records is the Legal Defense Fund (LDF). LDF is America's premier legal organization fighting for racial justice through litigation, advocacy and public education.
In its work to protect the voting rights of Black Americans, LDF uses legal, legislative, public education and advocacy strategies to promote the full, equal and active participation of Black Americans in America's democracy.
Their mission has always been to seek structural changes that expand and improve democracy and advance political autonomy for African Americans. Part of that mission involves protecting and making accessible the important records of the past that tell the courageous stories of those who worked to gain new ground.
Over 100 LDF staff members have access to Preservica with various security controls. As the sole repository of all digital content, Preservica is where their team stores and searches all archival records such as:

Dockets

Annual reports

Case files

Photos/video

Press releases

Departmental files

Research/reports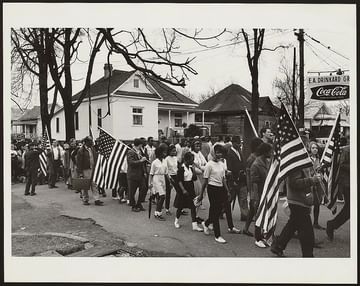 Marchers in the civil rights march from Selma to Montgomery, Alabama in 1965 from the Library of Congress
Preservica serves as their first stop for historical research on LDF cases, where they leverage information to support grassroots community organizers, both in the South and across the country. The repository contains more than 6,000 cases that LDF has litigated from 1940 through the present day as they made their way through the judicial system.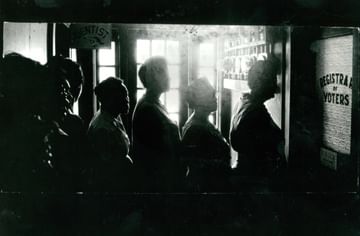 Undated photo of African American registrants waiting to vote
These records provide information on how groups gained voting rights that LDF's legal staff uses to support their litigation cases. They rely on the records to educate themselves on the groundwork that has been laid, using it in court to show past precedence on things such as preclearance law, redistricting, and gerrymandering. The opposing litigators don't have these archives, which gives LDF an edge in their court proceedings for those continuing to take on these issues today.
The archive is an important place of history to uphold and LDF is reliant on its digital collections to protect, secure, and defend the right to vote for the black voting communities they represent. As a legacy organization, the knowledge gained from their archives spreads beyond their walls to improve their litigations, help increase funding, weigh in on established law and help preserve the political process.
How Preservica can help
Preserving the past helps to honor the memory of those who came before and to learn from their experiences to take on the issues of today. The Boston City Archives and the Legal Defense Fund are making an impact when it comes to preserving our nation's voting history and the fight against racial injustice. Boston City Archives is providing a piece of history previously not accessible on a public level, while LDF is using archived history as a tool in our present day judicial system.
As history constantly unfolds around us, it's clear The United States is rich in lessons to be learned from, and preserving that information is vital to our democratic process. History binds the world together and unites us in the shared undertakings of our past to help us determine our future.
The value in history stretches far beyond America's borders and Preservica's growing community of government organizations worldwide includes 26 US state archives as well as many city, county, state, provincial and national agencies. If you're ready to take that next step to mitigate and protect your electronic records with a digital preservation technology that fits into your infrastructure, see how Preservica can help.
You can try Preservica software for FREE with our Starter program which offers up to 5GB archival storage, FREE forever. Get started with your archive project today!