Blogs & news
Preservica
|
November 10th 2022
Royal College of Physicians of Ireland partners with Preservica to protect important digital collections
Oxford, UK, Boston, MA, November 10, 2022— Preservica, a global leader in Active Digital Preservation archiving, announced today that the Royal College of Physicians of Ireland (RCPI) has selected Preservica's cloud-hosted digital preservation software to collect, preserve and curate digital materials that explore the rich history and development of medicine in Ireland.
Hundreds of academic institutions world-wide now use Preservica's Active Digital Preservation archiving to safeguard and provide online discovery for important digital collections. The RCPI joins a growing community of users in Ireland including the Chester Beatty Museum and the Mercy International Association.
As the only accredited medical museum in Ireland, the RCPI Heritage Centre will use Preservica to protect internationally important digitized and born-digital content relating to the history of medicine and medical education in the country. This includes an initiative to create a new COVID-19 collection.
"Researchers expect to be able to access collections online at a greater rate, but it is essential we do this in a way that ensures the digital collections are available and preserved for the long-term," said Harriet Wheelock, Keeper of Collections, Royal College of Physicians of Ireland. "Preservica has allowed us to develop our online collections, ensuring they are actively digitally preserved and easily accessible to our researcher. From our 1692 Royal Charter to oral history interviews carried out with clinicians about the impact of COVID-19, Preservica is helping us to protect and share over 350 years of Irish medical heritage."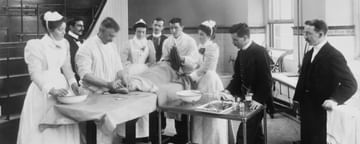 Mater Hospital in Dublin, c. 1900
Preservica's cloud-hosted archiving software for academic institutions uniquely uses Active Digital Preservation to automatically ensure digital content remains accessible and readable over decades – no matter what file format it was created in. The software also includes a customizable online discovery portal for showcasing digital collections and providing access for researchers, students and the public.
"We are proud that Preservica has been chosen to safeguard these internationally important digital collections for future generations," said Mike Quinn, CEO, Preservica. "We welcome the Royal College of Physicians of Ireland to the growing community of academic institutions across Ireland and the world that are choosing Preservica as their trusted long-term partner for digital preservation."
Preservica is experiencing significant momentum having recently announced new government customers in the Netherlands and the UK.
Academic institutions can learn more and start using Preservica's software for free here.

About Preservica
Preservica is transforming the way organizations around the world protect and future-proof critical long-term digital information. Available in the cloud (SaaS) or on-premise, our award-winning active digital preservation software has been designed from the ground up to tackle the unique challenges of ensuring digital information remains accessible and trustworthy over decades.
It's a proven solution that's trusted by thousands of businesses, archives, libraries, museums and government organizations around the world, including the UK National Archives, Texas State Library and Archives, MoMA, Yale and HSBC.