Customer story
Preservica
|
November 6th 2020
Building a legacy of digital preservation in Limestone County, Alabama
Like many small communities across the South, Limestone County, Alabama is rich in heritage and history. When Rebekah Davis, a former journalist, returned home to become the Limestone County archivist, she wanted to convert a vast collection of old books and papers into a digitized and indexed database of historic records and information. Preservica Starter proved to be the digital preservation solution to show her the way.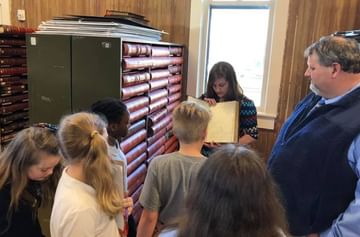 "The fact that Preservica Starter is free is a huge benefit and for us, it has been a low-risk, all-reward proposition," says Rebekah. "This is especially important in a small community like ours where local government budgets are tight. This opportunity allows us to use the same great preservation tools and technologies as some of the largest public sector archives." Thanks to Preservica Starter, Rebekah is well on her way to achieving her archival goals for the county.
Transforming paper documents into well-preserved history.
When Rebekah began her role as Limestone County archivist, she took inventory of the expansive collection of books and binders that contained volumes of historical and government documents, all housed in a century-old train depot. She knew she had a lot of impressive reference to work with – and a lot to protect. "Our offices are beautiful, but we work in a wooden building filled with paper," says Rebekah. "That's why we needed to take action to find a better preservation method." Preservica Starter empowered her to do just that.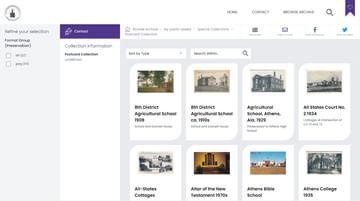 While Rebekah originally developed a website to store some of the county's digital files, Preservica Starter offered a more permanent solution that also provides people with easy accessibility to the digitized records. "Knowing that our valuable data and files are in a safe, secure repository means the world," she says. "Accessibility will be maintained long after you and I are gone. This is the goal – and this is what Preservica Starter does." Rebekah now has peace of mind in knowing that she and her team have the ability to store, catalogue and preserve historic files and documents for long-term sustainability.
Implementing easy to use and effective preservation technology.
Although she was relatively new to the concept of digital preservation technology, Preservica Starter helped to make the process easy and efficient for Rebekah. "The tools within Preservica Starter are so intuitive, I can figure it out as I go and it's so much easier and more fun than any other digital resource I have used," she says. "I love the 'drag and drop' option. Recently, I dropped 112 historic postcard files into a collections folder and they were safe and secure in seconds."
In addition to the ability to easily upload files, the organizational and categorizing features have also proven to be beneficial. "By allowing me to easily organize our collections, it's simple for end users in our community to access the materials we are cataloging and preserving," she says. "It's also metadata friendly and allows us to tag important details about our materials for future reference and to also make our collections easily searchable."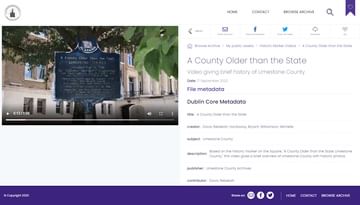 "The tools within Preservica Starter are so intuitive, I can figure it out as I go and it's so much easier and more fun than any other digital resource I have used."

Rebekah Davis, Archivist, Limestone County, Alabama
Providing her community with a glimpse of history.

When you are the lead archivist of a two-person team, you need resources to help you do more with less. Preservica Starter has provided Rebekah with user-friendly tools that allow her to quickly and easily preserve files so she can focus on enriching the historical collection and making this valuable data easily discoverable for the community she serves. "Our mission is to preserve and provide online access to the history of the Limestone County community," says Rebekah. "Preservica Starter makes it all possible with a built-in public portal."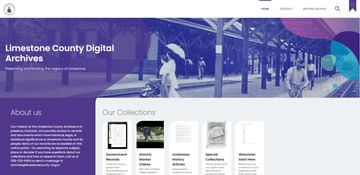 Whether it's legal documents, government records or stories from the past, Rebekah is excited about the fact that Preservica Starter allows her to offer her community a look at the past with learnings for the future. She laughs about recently helping someone discover the source of a ghost sighting in a local home. But she gets really enthused about another topic. "The Civil War was huge in Limestone County. Battles were fought here. People died here," Rebekah says. "The African Americans that fought here left local plantations to serve in the name of freedom. And thanks to the work we do, we can tell school children, you are standing here on hallowed ground, right where it happened. You are standing on history."
Preserving the past. Ready for the future.
Rebekah says Preservica Starter has helped her to become a better archivist and continue to build her preservation skills. Her favorite part about the technology? "Preservica Starter grows with you as your needs and goals change," she says. "Years from now when I move on or retire, I want to know that I left processes in place that will grow with the preservation needs of our community," she says. "That's the legacy I want to leave."
You can find out more about some of the fascinating collections Limestone County preserves and provides access to on their public access portal here.
Watch the video of Rebekah discussing what she has achieved with Preservica Starter and how she went about building her digital archive.
Like Rebekah, you may be facing archival challenges that require reliable preservation solutions. Why not follow her example and get started now for free with Preservica Starter? Discover how this valuable preservation tool can give you everything you and your organization need for a bright future.