Customer story
Preservica
|
March 15th 2021
Using Starter to make a case for digital preservation at Southwestern University, TX
When Megan Firestone, Head of Special Collections and Archives at Southwestern University in Georgetown, Texas, learned about Preservica Starter, she thought it was the ideal way to start preserving and sharing digitized collections, learn about digital preservation and build a digital archive she could showcase to leadership and donors.
She found Starter to be intuitive and easy to use and liked that she could rearrange hierarchies, enrich metadata, move assets, and keep things private before making them public. This allowed her to quickly upload and create collections she could share with colleagues. And because Starter was free, she had nothing to lose!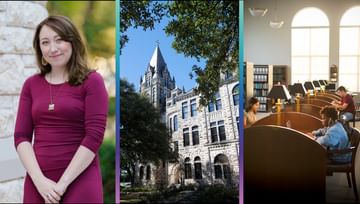 "In a meeting, I took a partner's digital file and simply dragged and dropped it into Preservica Starter and they were amazed at how quickly and easily the material was organized, preserved and ready to go online," she says. "I smiled when they said it would take me five seconds to get their whole collection up and running, and I took comfort in knowing that Starter was also taking care of all the crucial digital preservation steps to keep the files safe and readable for the future."
Building leadership's confidence – and a more organized and secure archive.
Thanks to her ability to spotlight the benefits of Preservica Starter using the free version, Megan gained budget approval for a Starter Plus account for her two-person staff. Compared to free (forever) Starter, Starter Plus offers more storage and user capabilities plus powerful additional features for a small subscription fee. Megan says this was necessary to manage the ever-growing volume of Southwestern University and special collections materials and records. She has also seen a large increase in born digital materials (items that originate in digital form), especially from the university's marketing department with whom she closely works.
Using Starter, also made it more apparent that Southwestern's previous practice of housing digital materials on servers was not the same as full digital preservation. "Starter Plus gives us confidence in knowing that our files are discoverable today, and safely preserved and accessible for years to come."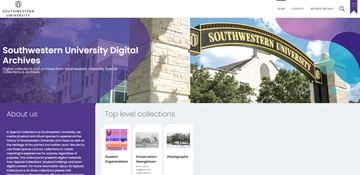 Accessibility to materials that educate, inform and inspire.
Megan says a primary focus of the university archives is to serve the student base that uses the materials, records and information for class projects and research. Starter's built-in online portal, search and metadata features help to make the university's collections easily accessible for students, school personnel and the general public. This benefit has been magnified due to COVID-19 pandemic challenges and the ability to access materials from virtually anywhere is more important than ever.
"With Preservica Starter, I was able to quickly and clearly demonstrate the value of digital preservation to our leadership and colleagues in other departments."

Megan Firestone, Head of Special Collections and Archives, Southwestern University
Doing more with less and creating measurable results.
Megan says implementing Starter Plus into the university archives has yielded many important benefits, including:
Time and resources savings: "Access to materials via the Starter portal reduces requests to our two- person archival staff, making archival searches fast and efficient. The fact that Starter also takes care of the crucial digital preservation steps, also frees up more time to focus on curating our digital records and collections. Starter also saves money because it offers us collection and metadata management, full digital preservation and an access portal in one easy-to-use solution."
A centralized and accessible space "We have hundreds of years of historic content and now we are documenting and preserving it in one easy, organized and accessible space. It's a highly manageable and efficient digital preservation ecosystem, especially effective and useful for a small staff with a limited budget."
Actionable insights and data: "With Starter and now Starter Plus, we have data to share with our leadership that clearly illustrates how well our special collections are working. We can measure how many materials have been ingested, migrated and catalogued and we can show how many people have accessed our collection. In addition, data is also made available to archive donors, which is important for gathering funds."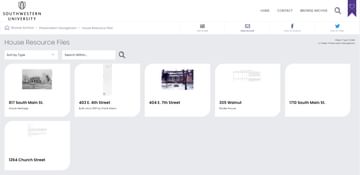 Looking to the future while preserving the past.
Megan says one of the main goals of the university archives is to simply ensure that students, faculty and the public know that the archive is available to serve them. She is branding the built-in access portal and rolling out a campus-wide campaign to call more attention to the archive's value.
She also wants to continue to build a metadata strategy to make the collection even more accessible and organized. And utilizing Starter's ability to make assets and folders public or private will be important for preserving Presidential records that must remain private for 25 years before becoming accessible to the public. But most importantly, she is driven and excited to provide the university leadership team with something tangible for their archival investment – measurable results and a well-preserved and organized archive that is accessible to future generations of students, faculty and the public.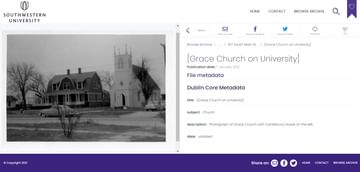 You can view Southwestern University's access portal here. You can also hear from Megan on the upcoming Starter user community workshop taking place March 23rd.
Like Megan, you may be facing archival challenges that require reliable preservation and access. Follow her example and get started now for free with easy to use Preservica Starter. Discover how this valuable preservation tool can help you quickly build a case for digital preservation at your institution. Good luck and let us know how we can help.