How-to video
Preservica
|
November 11th 2021
A Public Librarian's Guide to Digital Preservation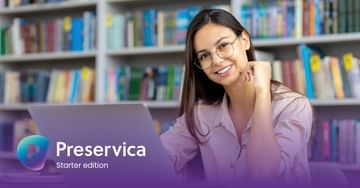 About this 25-Minute Training
The digital age has created new opportunities for libraries to interact with their patrons. Launching a digital collections program from digitized and born-digital archives, special collections and local history materials makes it possible for libraries to increase the accessibility of materials outside of normal library hours and connect with new audiences. But creating a new program from scratch or reviving a dormant digital collections program requires the right technology. Tools should be simple and affordable, hosted in a secure environment, and flexible enough to grow as your program grows.
In this free, self-guided workshop you will:
Hear from libraries who are using Preservica's Free Starter platform to connect with their community
Learn how to easily create your first digital preservation collection with simple drag and drop
Quickly upload metadata and digital files in bulk
Showcase your archive with your own public access portal
Make it easy for others to contribute to your digital archive
Connect with learning resources and others using this technology on the Community Hub

Get the most from the training – sign up for Starter to follow along
If you would like to start building and preserving your own digital collections after today's sessions, we encourage you to sign up for a Preservica starter account. It's completely free and it will give you a chance to practice everything you learn today on your own. You will also get access to Preservica's Community Hub which has a ton of resources to help get you going.
Free: Sign-Up for Starter and Follow Along
Lesson 1: Ingest
How to ingest and render obsolete digital files like WordPerfect into Preservica Starter
Welcome to Starter! In this short intro to our free-for-life software, we'll give you a tour of the backend interface, a brief look at the portal, and demonstrate the ingest and rendering of a WordPerfect file.

Length of lesson: 7:44 Minutes
Start now for free
Lesson 2: Metadata
How to bulk upload metadata in Preservica Starter
In just under four minutes, see how easy it is to add a CSV file to a folder of assets and upload them all together to automatically populate metadata fields upon ingest. Bulk metadata upload is free and available for all Starter users.
Length of lesson: 3:52 Minutes
Start now for free
Lesson 3: Publishing for Community
How to publish important assets for your community with Preservica Starter
Share your most important assets with your community – this quick tutorial shows you how to make your assets public so they're viewable on your portal.
Length of lesson: 2:53 Minutes
Start now for free
Lesson 4: Community Submissions
How to manage Community Submissions with Preservica Starter
Now available! You can invite your community to directly contribute to your archive within Starter. This quick tutorial shows how to set up your email template and submissions area, the submission process, and how to save submitted assets to your archive.
Length of lesson: 6:04 Minutes
Start now for free
Have questions?
Have questions? Want to connect with other professionals? Check out this special group on Preservica's Community Hub for more information - it's free to join.
Go to the Community Hub
Thanks to our partner
We'd like to thank Amazon Web Services, the sponsor of this webinar. As a partner of AWS, Preservica leverages the flexibility, agility, and security that AWS offers for our customers' digital preservation initiatives.