Digital preservation regional workshop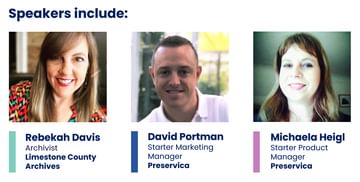 Following the recent announcement of the expansion of Preservica Starter and hosting in Australia and the wider APAC region, this workshop will deliver an overview of the increasingly popular free forever Starter edition.

Join us on Thursday July 22nd at 4pm AEST and hear from archivists who have already jump started their digital preservation journey, as they share best practice examples and advice.
Hear how Starter takes care of some of the fundamental steps in digital preservation, and learn how you too can quickly build a digital archive to showcase to stakeholders and the public, safe in the knowledge that all the vital steps to keep content safe and usable over decades are automatically taken care of.
In this workshop you will:

Learn how Starter seamlessly takes care of the fundamental steps in digital preservation
Hear best practice and advice from archival practitioners at organizations like yours
Find out how to build a digital archive you can share with stakeholders
Discover why 1,000s of organizations have already joined the growing Starter community
To be automatically enrolled for the workshop simply sign-up to Starter today and try adding your first file or folder.
Watch the recording