Event
11:00AM EDT / 8:00AM PST / 4:00PM GMT
Get Started with Digital Preservation: Training for Religious Archives
Learn how to easily preserve & share your institution's digital legacy.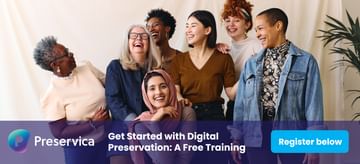 Event Description:
As a religious institution, you are a steward of important materials that document the history of faith, music, local communities and events, genealogy and so much more. The digital age has made it possible to digitize and preserve these important materials to increase accessibility to new audiences and to ensure that these invaluable records are still available for religious historians and the community well into the future.
Creating a new digital collections program from scratch or reviving a dormant digital collections program requires the right technology. Tools should be simple and affordable, hosted in a secure environment, and flexible enough to grow as your program grows.

Register for this webinar and workshop to learn how to use Preservica's FREE Starter platform to launch a digital collections program. Participants will:

• Hear from other religious institutions using Preservica Starter to connect with their community.
• Learn how to easily create your first digital preservation collection with simple drag and drop
• Quickly upload metadata and digital files in bulk
• Request digital materials from the community
• Showcase your archive with your own public access portal
• Connect with learning resources and others using this technology on the Community Hub
Register here
Speakers for this event
Chris Gardner
Guest Speaker and Community Volunteer
Temple Rodeth Shalom
Chris Gardner served his country in the US Navy, followed by a 17-year career in the federal government for the U.S. Navy and the Department of Justice. Later, he founded a technology consulting company supporting small business and home offices worldwide, which includes an education and advice blog that is read monthly by upwards of 100,000 people in over 120 countries. Chris is an enthusiastic volunteer of his time and effort in the community including creating a new digital archive facility for one of the largest Jewish Synagogues in the Eastern U.S. While not a professional archivist, Chris is learning quickly, and is also currently working with the national Reform Jewish movement to help bring modern digital archiving techniques and strategies to the Reform Jewish community of over 800 congregations in the US.
Onboarding Specialist
Preservica
Aubrey.shanahan@preservica.com
Aubrey currently serves as a Preservica Onboarding Specialist. Prior to joining Preservica, she was a Librarian for the City of Denton, and Simmons graduate where she used Preservica Cloud Edition and developed her knowledge of digital preservation. Aubrey works closely with Preservica's Starter users as a trusted advisor, educating new users on both the functionality and value of Starter, and helping users to achieve their objectives.
Channel Marketing and Business Development Manager
Preservica
Katherine.gambone@preservica.com
Katie serves as Preservica's Channel Marketing and Business Development Specialist. She has over seven years of sales and marketing experience in the library industry. Early in her career she was a Project Archivist at Gettysburg College and The Historical Society of Pennsylvania, where she processed, developed finding aids, and performed minor conservation on prized collections. Katie loves connecting with new audiences and helping to support the library community by raising awareness of key resources to support their collections.