Meet the new generation of intuitive & automated digital preservation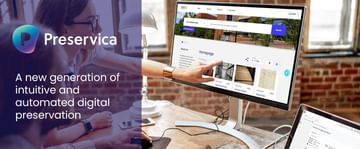 Following the recent announcement of our new generation digital preservation archiving and discovery software - attend this webinar and see the powerful new innovations in action!
Guided by our growing user community the new generation of software includes an array of powerful innovations that enable archivists, records managers and information professionals to further simplify and automate the future proofing of high-value digital content - for compliance and long-term value protection.
Join us to learn how you can:
Grow your archive with submissions from external contributors
Cut your backlog with easy bulk upload of files and metadata in CSV format
Engage your communities with a sleek new access and discovery portal easy branding
Maintain your files in the latest recommended formats with fully automated digital preservation
Easily customize user permissions and metadata schemas
Get up and running faster with our new quick-start templates

With new features and updates across our entire line of Active Digital Preservation solutions, there is something for everyone!