Resource Library
Frequently asked questions (FAQs)
Getting started
What is Preservica Starter?
Preservica Starter is a new and easy way to keep your digital assets safe and share them online – in minutes!
There is nothing to install as Starter is fully cloud-hosted, and it is based on the most powerful preservation platform on the market. With Starter you can upload, preserve and view hundreds of file formats including video and audio.
And the best thing is you can start now for FREE (5GB free forever). This is not a temporary trial and there is no credit card required!
Who is it for?

As an archivist or records manager at a government, academic, cultural or business organization you can get started protecting critical records and content right away – without needing to be a digital preservation expert.
Government agencies are using Preservica Starter to quickly preserve, manage and access permanent public e-records such as real property, vital statistics, governance and historical in digitized and born-digital formats.

Academic institutions are using Preservica Starter to quickly preserve, organize and provide online discovery for institutional records, special collections, and academic research for all types of digital content.
How do I get started for FREE?
Simply click on 'Start now for free' in the top right of your browser, complete the short sign-up form and you'll receive login credentials within a few minutes. Preservica Starter is free forever (up to 5GB), with no credit card required, no time limited trial period and no software to download.

Where can I get my questions answered or share product ideas?
Our help center contains a comprehensive knowledge base, including a wide range of how-to guides and a glossary of terms. The community forums are a great place to meet like minded users and share your ideas and suggestions for the product.
Both the help center and community forums can be accessed here.
Where is the Preservica Starter service hosted?
Preservica Starter is currently hosted on the AWS cloud in the US & Australia. During 2021 the service will launched in other AWS regions across the globe.
How much storage is included for free?
Preservica Starter includes 5GB of storage for free. If you need more storage you can upgrade to Starter Plus or Premium.
5GB doesn't sound like much storage, how much can I really preserve?
With 5GB you can upload:
35,000 Word documents
5,000 PDF documents
5,000 JPEG files
300 Hi-resolution TIFF files
200 MP3 files
30 MP4 files
You can also take advantage of additional storage with our Starter Plus and Starter Premium plans – more information on both is available on our pricing page.
Am I limited on the size of individual files I upload?
Some, but not all, web browsers place restrictions on the maximum size of files that can be uploaded through them. Typically, if a limit is in place, this is up to 4GB, but this can vary depending on the specific web browser.
Learn more
Why can't I just use Dropbox, Google Drive, CONTENTdm, Backup, SharePoint or a DAM to preserve my content?
Unlike traditional backup, cloud storage, collections management or DAM systems that simply store your files, Preservica Starter has been designed from the ground-up to ensure your files can be quickly found, viewed and trusted over decades.
In particular, this means maintaining files in formats that can always be viewed and used no matter what application they were originally created in.
For a comparison with SharePoint, please click here.
What essential digital preservation steps does Preservica Starter automatically perform?
From the second you upload your files they get securely stored in the cloud - with multiple copies created and held across multiple locations for 99.999999999% durability.
During upload Preservica Starter also:
Creates a checksum for every file to ensure its long-term integrity and authenticity
Scans the file for viruses
Checks for duplicates
Accurately identifies the exact file format
Extracts file properties
Transforms files into recommended preservation formats
Creates access copies that you can share online with colleagues or the public
And more..
All this means your valuable digital content and records are safe and fully preserved in the cloud in alignment with NDSA and OAIS ISO 14721.
What's included with Preservica Starter?
Preservica Starter includes everything you need to get started with trusted digital preservation in the cloud aligned to NDSA and OAIS standards – and the best part is you can started right away for free!
A summary of what's included can be found on our pricing page here, including information on Starter Plus and Starter Premium (coming soon).
Can I control which content is private and which is public?
Yes, you can easily toggle folders or individual files to make them private or to make them public through your built-in online access portal.
To find out more, please watch this video.

What file types can I preserve and view in Preservica Starter?
Preservica Starter allows you to preserve and render a large and diverse range of file formats, including but not limited to video, text, images, emails, websites and obsolete files.

Digital Preservation
What is digital preservation?
Digital preservation is all about making sure you can always quickly find, view, use and trust your digital content and records over decades or forever. This means going beyond simply storing your files to making sure they are maintained in a file format that you can instantly view and use no matter what application they were originally created in.
Learn more by watching our 6 minute Art of Digital Preservation video.
What is file format obsolescence?
Over time digital files can become unreadable, either because the original file format has become obsolete or you don't have the right application to view them. Once popular formats like Lotus 1-2-3 and Wordstar have come and gone. WordPerfect is all but obsolete. Now think of the 100s of different file formats you already have or might need to keep and access in the future - from digitized material, images, AV, websites, emails, PDFs, CAD drawings, graphical designs, GIS maps, project plans and more - and you can see how file format obsolescence can become a real issue.
What is NDSA?
The NDSA is the National Digital Stewardship Alliance, launched in 2010 as an initiative of the Library of Congress' National Digital Information Infrastructure and Preservation Program (NDIIPP). The NDSA now represents a consortium of organizations committed to the long-term preservation of digital information.
More information on the NDSA, including their latest Levels of Preservation resource, can be found here. You can find out how Preservica Starter aligns with the Levels of Preservation here.
How does Preservica Starter support the NDSA Levels of Preservation?
By using Preservica Starter, you can be sure you are aligned to the highest levels of the NDSA's Levels of Preservation. Preservica Starter has been assessed against the latest NDSA Levels of Preservation 2.0 self-assessment spreadsheet, the full results of which can be found here. You can also find out more about how Preservica Starter aligns with the NDSA Levels of Preservation in our article here.
What is OAIS?
OAIS, or Open Archival Information System, refers to the Reference Model that was developed for use in facilitating a broad, discipline independent, consensus on the requirements for an archive or repository to provide long-term, preservation of digital information.
The OAIS Reference Model became the official ISO 14721 Standard in 2002, and a 2nd edition was published in 2012.
Further information on OAIS and its usage can be found here.
Where can I find more information on the terminology used in Preservica Starter?
Descriptions of specific terminology used in Preservica Starter can be found in our Glossary, which you can access via our help center here.
Going further
How do I add more preservation capacity?

By upgrading to Starter Plus or Starter Premium (coming soon) you can take advantage of increase storage capacity immediately – 250GB and 500GB respectively.

For more information, please visit our pricing page.

Can I brand my access portal?
Yes, by upgrading to Starter Plus you can brand your access portal to include your own logo, site header image, site title and supporting descriptive information – as pictured in example below. You can also view a wide range of live access portals in our public access showcase.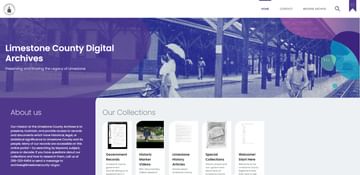 How do I upgrade to add more users?
Starter Plus enables you to have up to 3 users and Starter Premium (coming soon) will enable you to increase this further, up to 5 users.
More information on Starter Plus and Starter Premium can be found here.
Can I upgrade to your Cloud & Professional or Enterprise editions?
Yes – as your collections grow or when you need our more advanced functions you can seamlessly upgrade to Cloud & Professional or Enterprise editions, and still use the content and metadata you uploaded to Preservica Starter.
More information on our Professional and Enterprise editions can be found here.

Can I close my account and get my content and metadata back at any time?
Yes, you have complete control and will never be locked into your account. If you decide to move away from Preservica Starter then you will receive the folder and asset structure, all descriptive metadata for all folders and assets, the audit trail on all items, all your files (original and derived) plus the associated technical metadata and checksums. This is returned using an Open Preservation Exchange format that is fully described on our website so it can be easily read as you wish.
We are sorry to see any of our users go, but if you want to leave then you can do so at any time by completing this form and our operations team will work with you to close your account and ensure you receive a zip file containing all of the above quickly and securely.

My upload has failed – what can I do to resolve this?
Your upload may fail if you have exceeded your available capacity (5GB for free users). If this is the case, please contact starter.team@preservica.com to discuss options to help you progress or visit our pricing page to select your upgrade option.
If your upload issue is unrelated to storage capacity, please raise this on our community forums where a member of the team will be happy to help.