Demonstrate the value of your archive with Google Analytics
Get detailed insights into how visitors are interacting with your public collections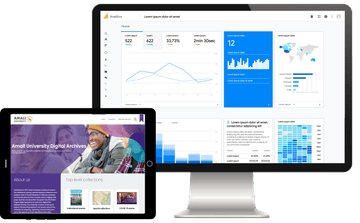 Unlock your archive's potential with Google Analytics
Quickly configure analytics integration
Actionable insights into user behaviour
Track collection trends over time
Megan Firestone, Southwestern University
Southwestern University are using Google Analytics to make the case and demonstrate that their digital archive is being used as well as to understand user engagement.
Reporting on digital archive usage to stakeholders

Making the case for continued archive use and growth

Assess which channels are driving traffic to the public portal
Google Analytics integration with Starter in action
Take advantage of Google Analytics for your public access portal today!
Upgrade to Starter Plus to gain immediate access to detailed Google Analytics.